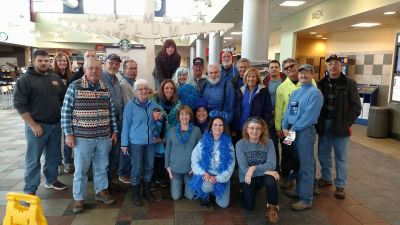 Stay in touch with planned club events - on and off the slopes. Every month the club has a birthday dinner out. And during the summer there are many events to keep you involved. Join us for one or for all - we'd love to have you!
First Meeting of the Season

7:00pm

Join us at the American Legion in Sandusky for our first meeting of the season. Social and Trip sign-up starts at 7:00pm. Meeting starts at 7:30pm.

September Birthday Dinner Out

6:00pm

Join the club in celebrating September's Birthdays at The Orchard Restaurant & Bar (3266 NE Catawba Rd. Port Clinton) on Tues., Sept., 26th at 6:00. It will be a "Clam Bake" like last year with 1/2 chicken, corn on the cob, your choice sweet or white potato and with or without clams. Price with Clams $29.99 plus tax & tip, without Clams $19.99 plus tax & tip. There will be a sign-up sheet at the first meeting. The Orchard needs a head count by the 22nd.

Lolly the Trolley Christmas Lights Tour

7:00pm

A group of Ski Club members are getting together to ride the Cleveland Lolly the Trolley for a Christmas Lights tour. You buy your own ticket, ASAP, from the Silver Bells Cleveland Tour - Call (216)771-4484. Tell them you're with the OTRUSINA PARTY so we are on the same trolley. Cost $16 +tip. Leaves from the Powerhouse at Nautica. Parking fees at the attended lot is $2 per car when you show your confirmation letter. If you have any questions contact: Laura Otrusina (419)366-2997 or lauraotrusina@hotmail.com.


7944 Fake Ave, Door 56 Wonderland, NYC 12347


+92452 241564 +92452 458564